Common Types of Door Locks
10/11/2014
Back To Blog
We count on locks to secure our property and belongings. Home and building owners today are lucky because modern locking systems with more complex mechanisms are already found in the market. They can even be used in conjunction with an alarm system and security cameras for better security. There are many different types of locks. Knowing all about them helps you learn which one best suits your house, or wherever you plan to use them.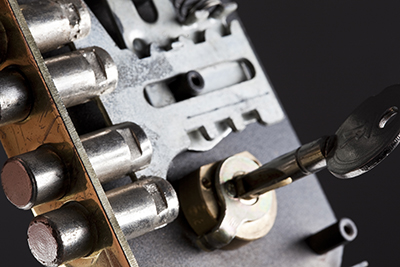 Deadbolts and Door Handle Locks
Door handle type is less secure, since it is simply contained within the door handle and works by preventing its handle from rotating. They are typically used in bathroom doors and interior doors for they can easily break. A variety of this type of locking device uses a button found next to the handle. A general residential locksmith can easily fix this in case of damage. Deadbolts serve as standby for front doors. They provide security through its metal cylinder that protrudes into the wall through the jam, for better protection. They are commonly used together with a door handle lock. Deadbolt installation is offered by local locksmith companies, like ours.
Keyless and Electric Locks
These two are modern types of locks. Keyless entry means no key is required for entry, as its name implies. Instead, a code is entered into a keypad. This is best used together with another locking system, such as a deadbolt. These are typically found in commercial buildings and vehicles for heightened security, since lock picking would be difficult. An auto locksmith specializes in fixing troubles with cars with keyless locks. On the other hand, an electric lock works like a regular locking device, but they do not work manually. Instead, the mechanisms of locking and unlocking run through electronics. They can be opened using a key or a code on the keypad. Electric lock is beneficial because it is wired electronically, requiring muck effort from a lock picker who aims to break in.
There also combination locks used today, and they are similar to keyless entry, but the keypad works by a push button system. The keypad makes movement mechanically, rather than through an electronic or digital coding. One of our professional locksmiths can tell you what type of security door locks are best for your home. The type of lock corresponds to the different doors in which it will be installed. Interior doors of homes may require a simple type while banks may need a more sophisticated one.